You are here
Main events calendar
Past Events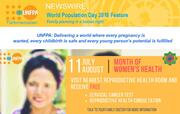 26 July 2018 - 26 July 2018
Ashgabat, Turkmenistan

11 July 2018 - 11 August 2018
Turkmenistan
In partnership with the Ministry of Health and Medical Industry, UNFPA plans to hold a campaign "Month of Women's Health" from 11 July – 23 August 2018.
Purpose of the campaign:
Details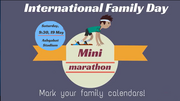 14 May 2018 - 19 May 2018
Ashgabat Stadium
Mark your family calendars! 
A morning of mini-marathon, mini-football and sports activities will mark the International Family Day in Ashgabat. 
"Families and Inclusive societies" is the theme of the International Day in 2018.  
More than 100 participants are expected from the government partners, public organizations and NGOs, students and UN agencies, along with their families and friends.
Don't miss and join the fun at 9 a.m., Saturday, 19 May at the Ashgabat Stadium.
Details
Pages