UNFPA: Delivering a world where every pregnancy is wanted,
every childbirth is safe and every young person's potential fulfilled.
12 June 2017
Improving newborn health through perinatal audit
Technical meeting on integrating the perinatal audit into the healthcare system in Turkmenistan was held from 5 - 9 June. The Ministry of Health and Medical Industry co-led the meeting in partnership with UNFPA, United...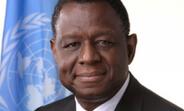 Investing in teenage girls
In times of upheaval, pregnancy-related deaths and sexual violence increase. Reproductive...