You are here
Main events calendar
Past Events

1 October 2021 - 1 October 2021
Global
Interview with Turkmen artist Mojek Charyev
On 1 October - International Day of Older Persons, UNFPA looks at ways to combat ageism and break stereotypes around older people.  
Details

9 August 2021 - 11 August 2021
Online
UNFPA Halkara ýaşlar güni mynasybetli "Parahatçylyk, ynam, ýaşlar — ýetginjekleriň we ýaşlaryň mümkinçiliklerini doly durmuşa geçirmegiň ugrunda" atly onlaýn seminaryny geçirýär.
UNFPA проводит онлайн-семинар, посвященный Международному дню молодежи "Мир, доверие, молодежь - На пути к полной реализации потенциала подростков и молодежи".
Sene: 2021-nji ýylyň awgust aýynyň 9-11 aralygy. / Даты: 9-11августа 2021 г.
 
Hasaba durmak üçin / Зарегистрироваться: https://forms.gle/EPbSriA5Mp3LnZoy5
Details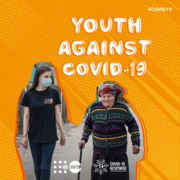 12 August 2020 - 12 August 2020
Global
Youth leading the way in COVID-19 solutions
Statement by UNFPA Executive Director Dr. Natalia Kanem for International Youth Day, 12 August 2020
As we mark International Youth Day in the midst of a global pandemic, we witness how young people are taking action to solve problems in their communities.
Details
Pages