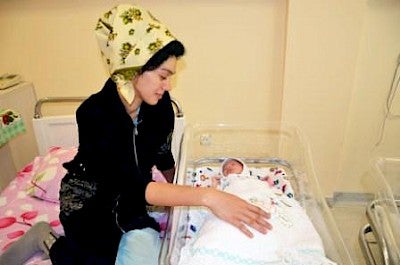 Aygul, 23, nearly lost her life when she developed complications during labour due to a heart condition. Fortunately, she was rushed from her home in rural Turkmenistan to the capital Ashgabat, where, under the care of a cardiologist, she successfully gave birth to a baby girl.
"I've had heart problems since I was a teenager," Aygul explains. "When I got married, I didn't realize it could become a threat. Plus, my husband's family expected we would start having children immediately."
Following her close call, Aygul began receiving free contraceptives, which will enable her to prevent another pregnancy until she has fully recovered and received treatment for her condition.
Like many other countries in Eastern Europe and Central Asia, Turkmenistan is stepping up efforts in helping at-risk women access modern contraceptives, acknowledging that when women are empowered to choose the number, spacing and timing of their children, they face fewer complications during pregnancy and childbirth, and their children are healthier.
Turkmenistan announced in 2014 that it would begin covering the cost of modern contraceptives and other reproductive health medicines and supplies through the state budget by 2017, previously supplied by UNFPA for nearly two decades. The initiative, extensively advocated by UNFPA, shows growing national financial ownership of Turkmenistan, as it is part of the country's larger effort to ensure all people, particularly at-risk women, have access to voluntary family planning and will help doctors identify the most-at-risk women and then direct them to local reproductive health centres like the one that saved Aygul's life.
"Risk factors of most-at-risk women contribute to a significant percentage of the maternal mortality rate," says Bahar Agayeva, head of the Medical Statistics Department at Turkmenistan›s Ministry of Health and Medical Industry. "Addressing the family planning needs of these women will help us significantly decrease maternal mortality and improve maternal and child health."