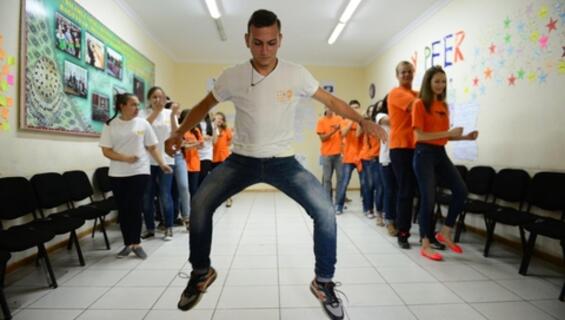 As Dr. Babatunde Osotimehin, the Executive Director of UNFPA said: "Young people are the innovators, creators, builders and leaders of the future. But they can transform the future only if they have skills, health, decision-making, and real choices in life"
As Dr. Babatunde Osotimehin, the Executive Director of UNFPA said: "Young people are the innovators, creators, builders and leaders of the future. But they can transform the future only if they have skills, health, decision-making, and real choices in life"
Turkmenistan as the state with predominantly young population, where more than 50% of the population is young people below 25, adheres to the UNFPA position, which promotes partnership relations with young people and assists them to participate in making decisions affecting them, and strengthening their ability to advance human rights and development issues such as health, education and employment.
UNFPA declared strategies in relation to the youth – involvement, inclusiveness, reproductive health and rights – accord with the ideas and strategies of Turkmenistan and are aimed at sustainable development of the society.
UNFPA globally calls upon and encourages governments to support and invest in effective youth participation in decision-making.  In Turkmenistan, the revised Youth Policy Law of Turkmenistan was adopted in 2013, which opens up new opportunities for young people in the area of youth engagement, youth-friendly services and volunteerism.
When youth is empowered and provided access to reproductive health services and education, including family planning issues, it positively impact health of women, girls and young people as a whole. This increases their opportunities and the youth becomes the engine of a progress.
During the new programme period from 2016-2020, UNFPA will continue working with the Government in developing and improving youth policies and programs in line with international good practice. The focus will be made on advocacy and advisory support for institutionalizing capacity of youth networks, peer education and comprehensive age appropriate reproductive health education in national youth-based structures and educational establishments.
Key facts
1.    Comprehensive sexuality education does not lead to earlier sexual activity or riskier sexual behaviour
2.    These programmes reduce risky behaviours: About 62 per cent of programmes had a positive effect on at least one behavioural or biological outcome, such as increased condom use or reduced unplanned pregnancies
3.    About two thirds of evaluations show reductions in targeted risky behaviours
4.    Studies of abstinence-only programmes are either inconclusive or show abstinence-only education to be ineffective
5.    What we teach matters, but so is how we teach
6.    Addressing gender and power also leads to better health outcomes
What is UNFPA doing?
UNFPA works with governments and partners to develop and implement comprehensive sexuality education programmes that meet international technical standards and commitments. UNFPA also advocates for policies on and investments in comprehensive sexuality education, both in and out of schools.
What is comprehensive reproductive health education?
Every young person will one day have life-changing decisions to make about their sexual and reproductive health. Yet research shows that the majority of adolescents lack the knowledge required to make those decisions responsibly, leaving them vulnerable to coercion, sexually transmitted infections and unintended pregnancy.
Comprehensive reproductive health education enables young people to make informed decisions about their health. These programmes build life skills and increase responsible behaviours, and because they are based on human rights principles, they help advance human rights, gender equality and the empowerment of young people.
UNFPA works with governments to implement comprehensive reproductive health education, both in schools and through community-based training and outreach. UNFPA also promotes policies for, and investment in, reproductive health education programmes that meet internationally agreed standards.
Y-PEER
Y-PEER, the Youth Peer Education Network, is a ground-breaking and comprehensive youth-to-youth initiative, supported by UNFPA, consisting of more than 500 non-profit organizations and governmental institutions. Its membership includes thousands of young people working in many areas, including those involving adolescent sexual and reproductive health.
Y-Peer also builds partnerships between young people and adults by advocating for policies and services, such as: national youth development strategies; increased access to information, knowledge, and services on sexual and reproductive health; and the sharing of lessons learned across borders and between cultures.
Y-PEER Turkmenistan was launched in 2007 with support of UNFPA. Y-PEER is a network of young people in 48 countries and hundreds of youth clubs and organizations, with thousands of members around the globe.
Y-PEER Turkmenistan was launched in 2007 with support of UNFPA. Y-PEER is a network of young people in 48 countries and hundreds of youth clubs and organizations, with thousands of members around the globe. The youth organization works to provide accurate information and skills, and improved access, to sexual and reproductive health and rights. Y-PEER wants to empower young people using the peer-to-peer approach with the knowledge and skills to make healthy choices.
UNFPA recognizes this approach as one of the main techniques for teaching life skills to young people's health. It is based on the theory that young people are more likely to discuss issues relating to adolescent reproductive health with their peers. Well-constructed activities within the network allow young people to be more informed on healthy living.
«After coming to the Youth Y-PEER center, I got introduced to the Y-PEER network and became a trainer,» said Aygozel Muhammedova,a Y-PEER activist. «The network has changed my life, as now I am able to share the accurate information with my friends and peers on STIs, HIV and bad habits. As part of Y-PEER, I feel I have the power to make changes and contribute to healthy living of our youth.»