UNFPA Photo exhibition "Following my dream – How our future depends on a girl at this decisive age"
UNFPA Photo exhibition entitled "10: How our future depends on a girl at this decisive age" was held at the National Museum of Fine Arts of Turkmenistan in Ashgabat in December 2016.
The Photo exhibition featured many faces and individual stories of girls from many parts of Turkmenistan and around the world, as well as their dreams and aspirations. 
Proud fathers of their daughters are also part of the photo exhibition, as the exposition includes the works of the Photo competition finalists, announced earlier this year by UNFPA jointly with Tajikistan Country Office, with the theme "I'm proud of my daughter!"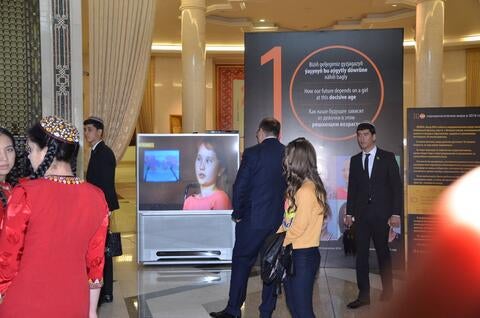 A film entitled "How do teenage girls in Eastern Europe and Central Asia see their future" is an inspirational addition to the exhibition.  Produced by the UNFPA Regional office in Eastern Europe and Central Asia, the film features 10-year-old girls from the region talking about their dreams, aspirations, future plans and gender equality. 
Based on the competition call to entry, the participants had to send in a story behind each photograph.  That's why the guests of the Exhibition lingered for a while in front of each photograph, getting to know the life story, dreams and aspirations of each of the characters.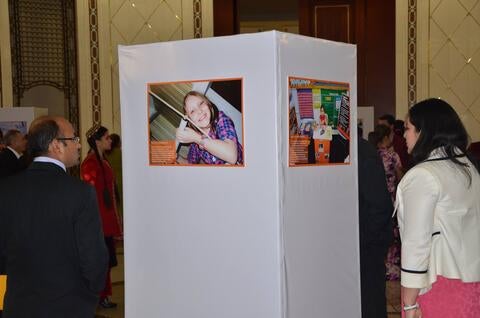 For instance, Meryem, 10, dreams to become a teacher and when answering "why", she often responds that teachers help girls to get knowledge, which will help them to find a noble place in life.  Meryem studies hard and loves foreign languages.  Alsu, 11, dreams about peace in our planet and for people to live a happy life.  She likes her city, which has become a peacekeeping centre.  The determination of Ipek, 14, helps her to overcome her disease, as she dreams to become an engineer.  Jemile, 10, dreams that all children have their parents.  She's the eldest in her family and helps her mom to take care of her siblings.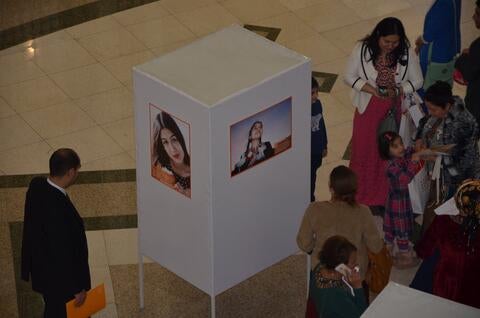 The photographs presented under the theme nomination "I'm proud of my daughter!" were equally touching. Fathers of different ages and backgrounds, from cities and rural areas have sent their photographs and stories about their daughters, their dreams and how they support their family and daughters in realizing their full potential.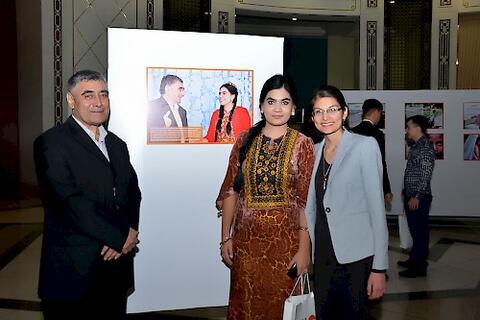 Atajan Ovezov and his wife both have hearing disabilities and they raised four wonderful children. Atajan has always dreamed about education – to go to the secondary school, the university, along with his brothers and sisters, but because of a disability it was not always easily possible for him. That's why him and his wife have always tried to instil the importance of education to their children. The dream of a couple has come true – their youngest daughter Gulpam has entered the Turkmen State University, the department of physics and mathematics.  "My daughter is a student!" explaims Atajan.  The photograph shows Atajan Ovezov sign "I'm proud of you!" to his daughter.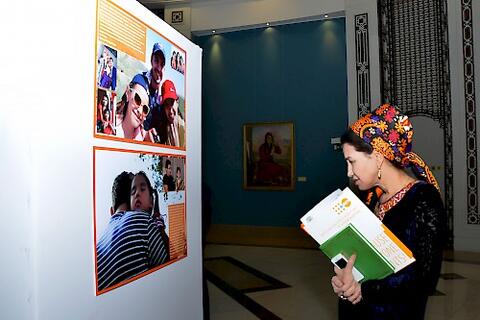 Arslan Allamuradov – father of two daughters – Meryem and Aylar wrote, "They bought huge happiness into our family, and I'm proud of them. What could be more comfortable than dad's strong shoulder. Girls love it when I read to them, and then they read to me. When our mom busy with the household chores, together with girls we love to play sports. They are not afraid to fall, because they know that dad is always near."
Annageldi Berdiev is very proud of his daughter.  In his story, he described the difficulties that his daughter had to endure and overcome to reach to her goals, "and thanks to her talent, determination and our support, she continues to conquer new educational and professional horizons."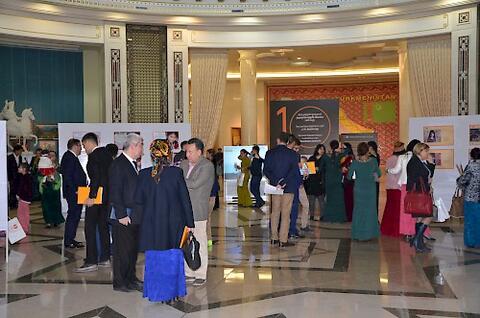 Akmyrat Gardashev called his photo submission "Two angels – two dreams".  He considers his role in upbringing the girls in supporting them to achieve their goals and be happy.  He is certain that the love to children must come not through the presents, but through attention, empathy and trust.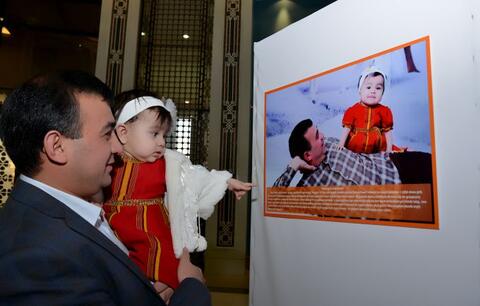 Ashyrgeldi Yazmamedov is proud that he could create favourable conditions for his wife to receive much-desired education, while he has taken a paternity leave.  "While my wife is at school, I look after my baby girl and have the happiness to witness her first steps, first words, and wish that my beloved girl grows up healthy and becomes a doctor when she grows up," he writes.
Begmyrat Kurbangeldiev, a surgeon himself, is proud that his daughter Leyli has followed the family tradition of becoming a doctor.
Twenty-three photographs and twenty-three inspiring stories.  Although they are all different, one thing unites them all – it is the understanding that the support of family and community helps each girl to take its rightful place in the future. The dreams and hopes of the girls shown in the photos and stories, as well as a vision of the future fathers for their daughters is a powerful call to parents and the community to create the necessary conditions for girls, which will enable them to succeed.