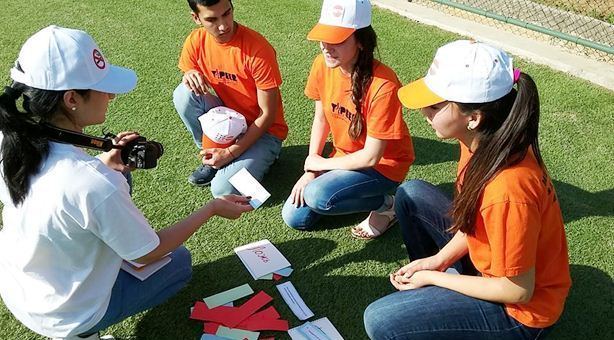 UNFPA-supported Y-PEER volunteers joined the International Family Day 2016, which was celebrated with the theme "Good health and well-being starts in families."
The family-friendly event was organized by Football Federation of Turkmenistan, the Grassroots Football organization and supported by World Health Organization and UNFPA, United Nations Population Fund.   
The International Family Day celebration gathered football players, young activists for healthy living, families and friends. Football teams included girl football players and teams of people with disabilities. The Kids Zone at the field kept the youngest participants entertained with kids games, kids football and face art.
Y-PEER volunteers interacted with the football players and guests of the tournament and conducted interactive quizzes, games and mini-sessions on importance of healthy living with prizes and lots of fun.  Event participants equipped their knowledge on adolescent reproductive health and rights, truth about bad habits and gender equality through Y-PEER edutainment activities. 
Y-PEER is an international network of young people from more than 50 countries interested in promoting health living among their peers.  Y-PEER Turkmenistan was launched in 2007 with support of UNFPA, and Y-PEER Youth centers were launched in Ashgabat and Mary in 2011.   
The Y-PEER centers are popular among youth, because here young people raise their knowledge on the issues of adolescent reproductive health, HIV/AIDS/STI prevention, gender equality, drug abuse, family planning and other issues related to healthy lifestyle through peer-to-peer education, including the use of theatre based performances. Additionally, young people can discuss sensitive issues with a gynecologist and psychologist on UNFPA supported TEEN Hotline.