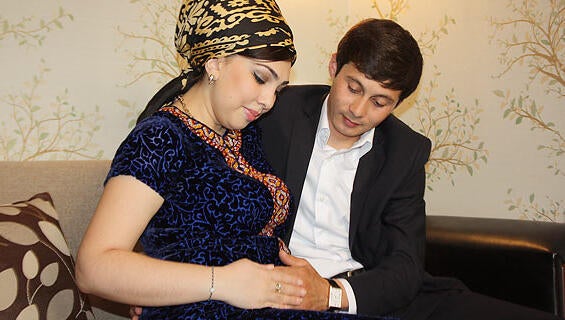 Making motherhood safer is a top priority for UNFPA. UNFPA works at all levels to promote universal access to 
reproductive health (RH) care
 and rights.
Making motherhood safer is a top priority for UNFPA. UNFPA works at all levels to promote universal access to 
reproductive health (RH) care
 and rights.
UNFPA-supported programmes emphasize policy advice in maternal care, especially strengthening of human resources and emergency obstetric and newborn care, as well as integration of the reproductive health services.
In Turkmenistan, UNFPA and the Government have launched the new five-year Country Programme for 2016-2020, which fully corresponds to the national development priorities.  The Programme is co-financed by the Government of Turkmenistan.
The focus of the programme will be integrating the delivery of reproductive health care services into primary health care, so it is as readily accessible as possible.  This means, for instance, that a woman could address her family planning, maternal health, antenatal care, and general health needs, including referrals, all in one place.
Since 1992, when UNFPA has started working in Turkmenistan, the strategic partnership has achieved sustainable and sound policy results.  Maternal mortality ratio decreased to 42 in 2015 in comparison with 67 in 2010, which is a 38 percent difference (WHO, UNFPA, UNICEF, WB, Global trends in maternal mortality report).
The key achievements of the previous programme cycles include:
Reproductive health centers: Ministry of Health and Medical Industry of Turkmenistan fully owns 104 reproductive health centers in cities and etraps country-wide, where couples and individuals can receive family planning counseling, as well as modern methods of contraception free of charge. 
UNFPA has started the supply of the RH commodities to the country in 1996, in 2014 the Government of Turkmenistan took gradual financial ownership of the procurement.
RH Commodity stock management: Computerized logistic information system for supply and consumption of drugs was introduced in 94% of the RH rooms in all velayats (states) of the country. The RH centers were equipped with computers and software in order to manage the supply and prevent the stock outs.
Designated trained RH staff in all houses of health of Turkmenistan: Ministry of Health and Medical Industry has assigned a designated staff on reproductive health in each reproductive health room of the houses of health (polyclinics) in Ashgabat, funded from the state budget, to ensure integration of reproductive health services, including cervical cancer, and strengthening of referral mechanisms.  This is yet another step to ensuring universal access to reproductive health and further strengthening of the reproductive health system and services in the country. 
Policy documents on maternal, adolescent health and family planning: As a result of UNFPA partnership with the Ministry of Health and Medical Industry the national strategic documents have been developed, which contributed to strengthening of health system in Turkmenistan for the effective delivery of services for mothers and newborns, as well as family planning services.
These are such documents as:
National Reproductive Health Strategy for 2011-2015, 
National Action Plan on Minimum initial RH services package in response to natural disasters and emergencies,
National Strategy to combat breast cancer and cervical cancer for 2011-2015,
National Strategy on HIV for 2012-2016 developed in cooperation with UNDP.
National Strategy on Maternal, newborn, child and adolescent health care for 2015-2019 has been developed in collaboration with United Nations Children's Fund (UNICEF) and World Health Organization (WHO. The strategy is a continuation of the National RH Strategy 2011-2015, which was expanded as a result of the assessment.
The strategy reflects the UN Secretary General's Global strategy on maternal, newborn, adolescents and children health released in 2015 and aims to apply the life-cycle approach to maternal and child health aspects.
Within the last five years, WHO standards and recommendations of clinical care in reproductive health were adapted to 50 demands-driven evidence-based national clinical protocols in the area of maternal health, antenatal care, newborn health, HIV, perinatal health.  These national clinical protocols and guidelines are now used in more than 70 percent of maternity units in the country. Also, these were introduced to the curriculum of Medical University. All this led to a significant improvement of maternal health outcomes.
Health Behavior in School-aged Children Survey: One more successful joint project is a Health Behavior in School-aged Children Survey, which was carried out among 13, 15 and 17-year-old Turkmen citizens' in different regions of the country. Turkmenistan is the first country in the region, which conducted the survey with the WHO adopted methodology. The results of it served as the basis for the development of evidence-based strategy in this area.
Emergency obstetric care and quality of medical education: Also, with the support of UNFPA, the Government Turkmenistan continues to focus its efforts on improving the access to quality services in the field of emergency obstetric care in the framework of projects on building capacity and improving the quality of high medical education.
Cervical cancer: Since adoption of the National Strategy of Turkmenistan on Response to Cervical Cancer and Breast Cancer Prevention in 2010, series of interventions have contributed to the national capacity development in the area of cervical cancer, including trainings on visual inspection using a solution of acetic acid, on colposcopy and cytology, among others.  In 2016, Turkmenistan introduced the government-sponsored vaccine against Human Papillomavirus (HPV), a virus that causes cervical cancer, which will have a major impact on the reproductive health of women in Turkmenistan.  UNFPA continues to provide technical support to the Ministry of Health and Medical Industry of Turkmenistan on the latest methods of prevention and treatment, as well as data collection in cervical cancer by establishing the national cancer registry. 
All the above significantly contributed to improved outcomes in maternal health area. This was proven by the UNFPA Country Programme evaluation and estimates of UN agencies in 2015.